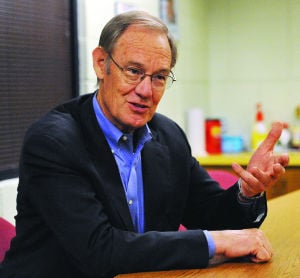 By Mara Knaub
After 40 years, Terry Goddard had been planning to retire from public service.
That was last year. Now the Democrat is a candidate for Arizona Secretary of State.
Two issues in particular have pulled him back into the political scene: "voter suppression" and "dark money."
In a Friday visit to the Yuma Sun, the former state attorney general and Phoenix mayor believes an "assault on voter rights" is making people lose confidence in the voting system.
He believes the secretary of state should be the "bandleader of voting" and make the process as easy as possible. Instead, Goddard said, several obstacles "make it harder to vote, especially if it's not something you've done all your life."
He pointed out the dual-ballot system, which he called an "extra impediment" to voting, especially for the men and women serving overseas in the military.
Attorney General Tom Horne and Secretary of State Ken Bennett introduced the dual-ballot voting system last year. With this system, voters who registered with federal forms can only vote in federal elections. Those who registered with state forms and showed proof of citizenship can vote in federal, state and local elections.
"I see no valid excuse for putting additional hurdles in the path to the polls of any legally eligible Arizona citizen. And that is especially true for the men and women serving our country overseas. They are fighting to protect our rights and, as a veteran myself, I reject as despicable any procedure, such as requiring two ballots, which takes away their rights," Goddard said.
As the former top prosecutor in the state, he is concerned that "dark money" – anonymous political contributions - are "polluting Arizona politics."
"Contributors can hide their identity. I think it's wrong," he said, adding that he supports "immediate transparency so the media and the voting public know who is influencing."
Goddard likens anonymous contributions to "money laundering." He pointed out that as the AG, he went after the drug cartels and stopped millions of dollars from being laundered.
He calls for "instantaneous disclosure - who gave it and who it's going to. It should be part of public record," Goddard said.
"As the official charged with registering and monitoring lobbyists, the secretary of state is responsible for ensuring that special interest (groups) have the right to make their case, but not make our decisions. And as the official overseeing our campaign finance system, the secretary of state is responsible for seeing that elections don't just go to the highest bidder," he explained.
He also believes the secretary of state "needs to call the shots without favoritism" or "political biases." He noted that Bennett, a Republican, served as co-chair of Mitt Romney's presidential campaign in Arizona, which Goddard says is "wrong."
In addition, he believes bills like HB 2305 "threaten important voter rights" and others like SB 1062 "hold us up to national ridicule."
"I am running so I can help restore Arizona to be the nationally respected, innovative and moderate state it has been for most of its 102 years," Goddard said. "The Office of Secretary of State is a good place to start restoring Arizona."
Currently, Goddard is senior counsel with an international law firm and a professor at ASU's School of Public Affairs. He lives in Phoenix with his wife Monica and teenage son.
A Tucson native and ASU College of Law graduate, Goddard was elected Arizona Attorney General in 2002 and reelected in 2006.
He served as the Phoenix mayor from 1983 to 1990. From 1995 to 2002, Goddard was the Arizona director for the U.S. Department of Housing and Urban Development.
Originally posted to www.yumasun.com on April 4, 2014
Do you like this post?
---